An owner survey conducted by the luxury self-catering accommodation website, Cottage Gems, has revealed that many of its listed properties contain a fascinating hidden history within their walls. The survey aims to highlight the diversity and prestige of the sites accommodation listings, as well as Cottage Gems' objective of helping UK holidaymakers "find luxurious and 5 star rated properties".
The Spa House (Austen House)

Badminton, Gloucestershire
Created in 1812 for Prime Minister Robert Jenkinson, the Spa House is part of 30-acres of land that make up 'The Manor House at Petty France.' During the final years of Napoleon's reign, this stunning property was used by Jenkinson as a countryside getaway. Poet Laureate William Wordsworth (author of the famous 1798 romantic work the Lyrical Ballads) would also go on to accommodate the property. Today esteemed guests continue to grace the Spa House, with celebrities Anthony Hopkins, Christopher Reeve and Emma Thompson all enjoying a stay at the glamorous house.
Burnfoot Holiday Cottages

Rothbury, Northumberland
Within the National Trust Cragside Estate, near the Northumberland National Park, lies a series of Cottages which share the honour of being a part of the first hydroelectric farm anywhere in the world. Lord Armstrong's stone farm was meticulously converted into a complex of luxurious cottages and is also bordered by one of Europe's biggest gardens.
Sheplegh Court

Dartmouth, Devon
A heated outdoor swimming pool is not Sheplegh Court's sole claim to fame! The property was also the headquarters of General Eisenhower during the Second World War. Along with eminent statesmen, Eisenhower here planned the D-day landings that would take place at Slapton Sands. The Court also was also the location of a well-known conference between General Eisenhower, Field Marshall Montgomery, British Prime Minister Winston Churchill and the French General Charles de Gaulle.
The Gun Emplacement

Kent, England
This dramatic Cottage, situated near a cliff edge atop the White Cliffs of Dover, is the nearest house to France in all of England. It is not only the location of this Cottage that is noteworthy; the Gun Emplacement was the base of, actor and Academy Award winner, Sir Peter Ustinov during World War Two. Ustinov mentions the property in his autobiography and after the war he continued to use the house as a retreat in which he could write and relax in.
About Cottage Gems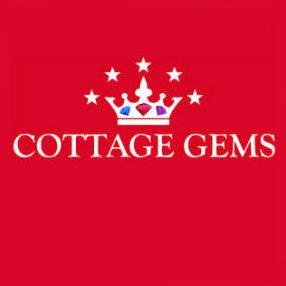 Cottage Gems is a family-run site that describes itself as 'the diamonds, rubies and emeralds' of the self-catering accommodation business. The website's primary aim is to provide holidaymakers with a range of luxury self-catered accommodation choice (as well as last minute deals and special offers). Along with Country Cottages Online (https://www.cottagegems.com/search-assistant.php), the site makes up the XE Website Solutions Ltd group, which has over 15 years of experience in the sector.